Tear It Down or Renovate It: A Growing Dilemma For Home Buyers.
For quite some time I've been chanting that it's time to let go --- let go of the notion that a 70-year-old house has enough charm and redeeming factors to be worth saving.
With energy concerns becoming more prevalent and the cost of utilities continuing to escalate, we need to change our thinking here on Martha's Vineyard. Charm is a relative term and there is nothing charming or attractive about a tiny 70-year-old house with little to no insulation, cramped bedrooms, one bathroom with leaky plumbing and a tiny kitchen that is inadequate by today's standards on a crumbling wet foundation.
Circa 1900 near Campground, Oak Bluffs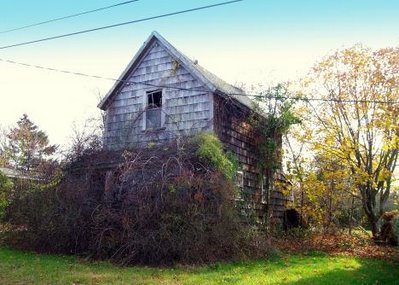 I'd even go so far as to say there is nothing charming or redeeming about some of the houses built during the last 20 to 40 years. We allowed some real junk to be constructed during the 1980's real estate boom, and a lot of the circa 1970 construction is ugly and functionally obsolete. Aside from the emphasis today on energy conservation, modern high-technology in new homes is also important and advancing at a breathtakingly rapid pace. Today's upscale consumers want that technology, but they don't want the kinds of subdivisions typical of suburban America. They want the charm of the Martha's Vineyard lifestyle because that is what attracts them. But they want that charm to include all the bells and whistles they are used to at home; they want the best of both worlds. The psychographic profile of people moving to the Vineyard is changing and that will make modern in-home high-technology even more important. No longer are we just a summer retreat or retirement community. People come here for a gentler way of life while simultaneously carrying on their off-Island careers.
It might very well cost you more to renovate an older house than to build a new home. So, what's the answer? I think the eco-conscientious solution is to scrape them, raze them, bulldoze and remove them from the land and start over. Some people call this "Bash and Build". It may sound shocking, but it's been happening in other parts of the country for quite a while now. One off-Island builder who has worked on numerous teardown projects in recent years says, "In my opinion, it's the hottest trend in real estate." So how do you get this old house off of your nice lot? You can either have the structure demolished, lifted off the foundation and removed in one piece or deconstructed. The latter method which entails reclaiming lumber and reusable building materials will cost you more money and more time than just driving a bulldozer through the front door. Another option is to donate the old structure to affordable housing. It would then be lifted off the foundation and removed in one piece. This sounds like a good idea, but there is a backlog of inventory right now. Let your eco-conscience be your guide. You might also be eligible for a substantial tax deduction if you can donate the structure or the salvaged reusable materials.
Speaking of costs and savings --- it could cost anywhere from $20,000 and up to demolish and cart away the old structure. That cost doesn't include the foundation, but the foundation material can also be recycled. When the site is clean, you can start from scratch building a new and possibly bigger dream home on that nice lot. In the end you may be paying more "all in" for the finished product, but you will be in a location you want, instead of next door to yourself in a new subdivision without the landscaping intrinsic to older quintessential communities like big trees (to provide screening and privacy). Remember, most of the best locations on this Island are already developed or in conservation. Another factor to consider is financing. If you're not paying cash, the best solution is to acquire a two-phase loan for a project like this. The first part will be a construction loan which historically will be at a higher rate --- perhaps one-half to one point above prime. You will need a construction contract and approved plans in order to get the loan, but the plans don't have to be set in cement --- no pun intended. The second part is for the conventional home mortgage. If you're unable to get your ducks in a row for this type of financing you will end up paying closing costs twice.
We already have a number of cookie cutter subdivisions on the Island, but there are a number of mature small and medium size communities in great locations on the Island where the houses range in size and style unlike the uniformity of modern subdivisions. In off-Island communities it has always been understood one should never to have the biggest home in the neighborhood. But on Martha's Vineyard that is not a concern. The teardown trend is starting to become more accepted, and inadequate and smaller houses are being replaced with more substantial houses. I am not talking about "McMansions", nor am I a proponent of them. I believe smart buyers who have identified and moved into the older communities by replacing dilapidated homes with new homes will create an environment for more buyers to come in and build new homes. This will fuel a renaissance in these communities. The land on this Island is just too precious to pretend patch-and-paint houses contribute to the value of the land.
New architect design reproduction near Sunset Lake, Oak Bluffs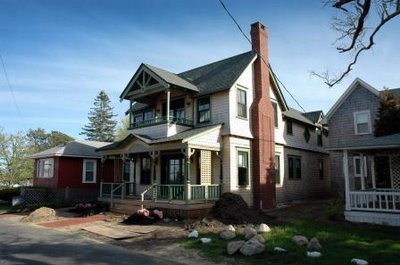 I do think it is critical for neighborhoods to be vigilant and take responsibility for their future well-being. It will be important for residents of these communities to establish home owner associations if they don't already have them. They need to create covenants to ensure there are safeguards to prevent someone from coming into the community and building an enormous A-Frame glass tent or Quonset hut that doesn't fit the general character of the neighborhood. Variety is a good thing because it gives character to the community and ensures more expensive homes will blend in visually and economically. This is all part of preserving the future value of your investment and the value of this magical Island we all love to live on.
Labels: Affordable Housing, Buying Real Estate, Conservation, Martha's Vineyard Real Estate, Owning Real Estate, vacation home