Why you need a
Structural Home Inspection
In my opinion, whether the Martha's Vineyard vacation home you are buying is an older home or new construction, a professional structural home inspection is an absolute necessity.
For a three-bedroom, two-bath home on up to an acre of land, a complete inspection should last about three hours and can cost between $300 and $500, but prices can be higher depending upon the property and ancillary inspections requested.

However, Tom Silva of 'This Old House' suggests a home inspection should begin before you sign an Offer To Purchase contract. Start by looking at the house from the street and observe how it is sited and if it has proper drainage. Does the land slope down and away from the house? Look at the roof; is it in good condition or full of dips, bumps and bubbles?

Looking further at the structure, is the paint on the siding and trim peeling? If there are shingles, are they "cupping"? Look at the windows and doors and notice whether the windows are in tact and are all the screens and storm panels there? Is there evidence of rot on the window sills? Observe the exterior doors to see if they are plumb and if the thresholds are loose. Are there signs of rot?

On the inside of the house the first thing to look for is evidence of water damage around skylights and chimneys. Look for signs of mold, loose plaster or peeling paint. Are the interior trim moldings damaged or splintered? Notice the cosmetic condition of appliances, bathroom fixtures and the heating system?

Just because the home you want to buy does not pass muster after your personal inspection of the property, it does not mean you should not move forward with the purchase. Having a keen eye for observing flaws and defects will help you be more realistic and disciplined during the initial price negotiations. Deferred maintenance comes at a cost and that cost can be huge, so take off the rose colored glasses and pay attention. Every element of a home has a life expectancy. The National Association of Home Builders (NAHB) did an informative Study of Life Expectancy of Home Components.

Okay, you have negotiated an acceptable purchase price, and now it is time to schedule a professional structural home inspection. Your professional Martha's Vineyard home inspector doesn't just look for things that need fixing, he will also look to understand the homes systems and features. He will point out areas that will need ongoing maintenance or may soon be at the end of their effective lifespan. He will highlight emergency shutoffs as well as other important points of interest. He inform you of areas of concern where you should have specialists do further inspections. He will assess the building code conformity as well as all the systems and structural components that make up the building, such as:
Structural elements, foundation, framing etc
Plumbing systems
Electrical systems
Heating and Cooling systems
Roofing
Cosmetic condition, paint, siding, etc.
A professional structural inspection also addresses Environmental Issues.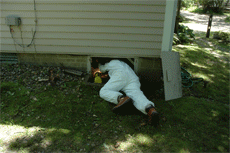 When you've decided upon the Martha's Vineyard home you want to buy and you're about to sign the Offer To Purchase real estate contract, make sure there is a contingency in that contract allowing you to get your own professional Structural Home Inspection. SplitRock Real Estate has a list of Structural Home Inspectors you can choose from.
Unfortunately "Pre-Selling" or "Pre-Listing" structural inspections are not common place on Martha's Vineyard; however, in some cases, a savvy seller may have had their own structural inspection done which they usually will provide to a prospective home buyer. If they are wise, they will have arranged to have any discovered problems corrected. However, I still insist that my buyer clients have his or her own independent inspection done. Normally, upon acceptance of the Offer To Purchase, you will have 10 - 15 days to have the inspection completed, analyze the report and respond to the seller. We will be your eyes and ears at the structural inspection should it not be possible for you to be present yourself. Many home inspectors create vivid, detailed electronic reports - some, complete with color photos.
In the event that hidden problems are revealed through the structural inspection process, you may do one of two things:

1) If you are not satisfied with the results of the inspection, you may terminate the purchase agreement by notifying the seller in writing and provide a copy of the structural inspection report disclosing the problems causing your discomfort.

2) You may submit a list of the problems discovered in the inspection report to the seller and request that the seller make the necessary corrections and repairs before the deal is closed, or adjust the price accordingly.

NOTE: A home inspection should not be construed as an automatic right of renegotiation but is meant primarily to more fully and accurately provide the Martha's Vineyard real estate buyer with information concerning the condition of the property.

Here are some tips on the hiring of a professional inspector and the interpretation of the structural inspection report.

When you interview a Martha's Vineyard home inspector, ask him what type of report format he provides. There are several types of reports used by inspectors, such as computer generated reports, the checklist format and the narrative style report. Some reports are completed and generated on site and some may take up to a week to complete. There are good and bad points to all of these formats.

Probably the most confusing part of a home inspection report is the descriptions given for each structural item or component. A report that indicates the condition as "Good", "Fair" or "Poor" without a detailed explanation is vague and can easily be misinterpreted.

An example of a vague condition would be:


"Bathroom Shower Enclosure: Condition - Good, Fair, or Poor."


None of these descriptions gives the homeowner an idea what is wrong. Does the shower enclosure have a cosmetic problem? Does the home have a plumbing problem? A good report should supply you with descriptive information on the condition of the home as well as the site. An example of a descriptive condition is:



"Bathroom Shower Enclosure: Condition - Minor wear, heavy wear, damaged, rust stains, or chips in enamel finish. Recommend sealing drain and pan at base of tile."

As you can see, this narrative description includes a recommendation for repair. Narrative reports without recommendations for repairing deficient items may be difficult to interpret, should your knowledge of construction be limited.

Make sure, if you do not understand something, that you ask questions. Items in the inspection report that are not serious quite often can be interpreted by a nonprofessional to be a major factor. A good home inspector should be able to put things into perspective and answer all your questions. If for some reason a question cannot be answered at the time of the inspection, the inspector should research the question and obtain the answer for you. For instance, if the inspector's report states that the concrete foundation has common cracks, be sure to ask, "Why are they common?" The answer you should receive will be along these lines: common cracks are usually due to normal concrete curing or structural settling. The inspector's knowledge and experience dictates the interpretation of the how and why of the cracking.

Take the time to become familiar with your home inspection report. If the report has a legend, key, symbols or icons, read and understand them thoroughly. The more information provided to you about the property, the easier it will be to understand the overall condition. If possible, try to be present when the inspector is doing the inspection. You do not have to be there during the entire process, but if you can walk through with the inspector at the end so he can show you the findings of the structural inspection, you will learn a great deal about the Martha's Vineyard home you are about to purchase. We have a list of Home Inspectors on our Service Providers page.
The Federal Housing Administration (FHA) has revised form HUD-92564-CN "For Your Protection: Get a Home Inspection." in order to clarify the importance of getting an independent home inspection. The form also explains the difference between an appraisal and a home inspection, and stresses the importance of radon testing. I give a brief explanation about Radon on my Environmental Issues web page along with links to research the subject further.