SplitRock Real Estate, LLC
Martha's Vineyard Real Estate Buyer Client Testimonials
Most real estate agents offer glowing testimonials on their websites from satisfied homebuyers. Maybe you have thought to yourself, "I'd like to speak directly with those 'satisfied homebuyers'." Well, you can! Although I am protecting the personal information of my clients, if you contact me and tell me which ones you would like to speak with, I will gladly give you their contact information.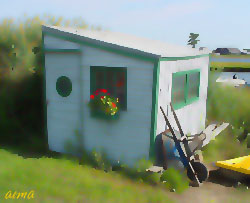 A Seller's Agent would say this is "cute", but an Exclusive Buyer Agent will tell you it's a SHACK!

"Your Inner Circle e-Newsletter is extremely interesting. Really wonderful. I especially like that you permit a lot of your personal opinions to seep through, you humorously point out the foibles of overpricing and price reductions, and yet you simultaneously identify good opportunities in all price levels.

"It seems to me almost anyone, from a young family with modest assets, to a buyer looking for a very substantial property, would find your e-Newsletter very helpful."

M.G., Greenwich, CT


---
"Peter Fyler found my house for me and provided all of the contacts for services I needed to settle in at the Vineyard. I appreciated his honesty when he deterred me from looking at some houses he considered inappropriate for my needs.
"After the closing he was still helping me organize all of the details for my new home. Peter made an incredibly stressful process much easier for me, especially because I live in New York.
" I hope to maintain my relationship with Peter because he is a responsible, dedicated, and capable real estate broker in addition to being a very nice person."
Penny & Daniel T., Rye Brook, NY and Martha's Vineyard
---
"We decided that we wanted a house on the Island – easy peasy, so many realtors it'll be a doddle – just pick one and off you go – yeah right and pigs fly.
"We set about finding a representative – we had spent hours pouring over the real estate freebie guide that resembles a phone directory and too many hours on the web looking at sites and listings. It was during one of these research journeys that Stephen looked at the SplitRock Real Estate website, he was impressed. He said to me I think we should chat to this guy he has a lot of information on there, not the usual blurb either. I'd never heard of a buyers agent before but it makes perfect sense to me – I mean what realtor that you know of has pictures of the water heater and breaker box that he's going to send you in an e-mail.
"So we made a list of our requirements – some essential, some wishes. Arranged to talk with Peter over the phone and see if we thought he was as good as his website (some times people can have a wonderful website but be as thick as two short planks and be completely wrong for your needs) Anyway we talked to him and arranged to meet when we went back. We had already decided to go back to the island for another 2 weeks and do some house hunting.
"In the meantime he sent us e-mails of houses that he thought we may be interested in because of our previous discussions along with tons and tons of pictures to help narrow down our list.
" We scheduled 2 days of viewing – some we had requested to see and that Peter agreed with and some that Peter suggested and also some that we wanted to see that Peter didn't think were what we needed but took us anyway just to prove his point.
" Found a house, Peter helped us organize an inspection, a very thorough inspection. Lawyers, electricians, engineers, organized the Radon test and then basically fought (I mean negotiated with) the seller to the end to get everything corrected and adjusted. Peter took as much time/effort and care as he would if it was going to be his house. Throughout the process he made sure that we were informed of the progress or at times lack of it. So much so that he understands our English sense of humor now and some of our slang phrases.
" Now we are looking forward to our first trip to our new home – in time it may become our only home - if we ever buy another home on the Island we would use Peter again in a heartbeat. If we ever buy a home anywhere else I would only ever use an exclusive buyer's agent."
Stephen & Kerry T., Houston, TX and Martha's Vineyard
---
"Peter Fyler, our exclusive buyer's agent, was our biggest advocate during our home buying experience. He didn't try to sell us a house. Instead, he helped us find a home.
"We quickly realized that Peter's services included more than just informing us about properties. At times, he was our motivational speaker, voice of reason, handyman, and father figure. Peter offered his professional opinions on properties – good and bad.
"He was always prepared and knew who to speak with to get our questions answered. Peter paid close attention to every detail of the sale. We wholeheartedly recommend SplitRock Real Estate to every home buyer."
Chris S. & Mary Jane A-M
(Happy first-time home owners on Martha's Vineyard)
---
"When I was finally past window shopping and ready to make a purchase on the Vineyard, I looked into the two buyer brokers on the island. I perused both web sites, called and talked to both and for reasons to my advantage, chose the best. One was a little too full of too many people and too little information and the other was just one bold guy who knew what he was talking about. Being from the South, I wasn't too trusting of Yankees in general, but logic and an innate curiosity had me sign up for his general mail list, and was I ever impressed!
"But that was just the beginning. Get to the second level and sign him up as your agent and you get a real education. When you read his Inner Circle e-Newsletter, you have a wealth of information to work off of, straight talk about the housing market and what to look out for. And what does it cost you to get all this? Absolutely nothing! He works off the normal commission of the real estate sale, if and when it happens.
"Peter and I whittled down the list over email and telephone. I asked a lot of questions and he answered them all. My wife was on the Vineyard attending an artist's workshop, so I asked her to spend a day with him. The great thing was I hadn't been there for five years, and between them both, I had two sets of eyes with diverse viewpoints. I was definitely there in spirit and was able to visualize everything happening. They looked at fifteen properties on that day. Out of the fifteen, there was only one I considered buying from a distance, as the location and neighborhood just felt perfect for us.
"Funny thing about this dude is that he's not just happy to get a sale; he's happy to get the best deal for his client. When we found the one property we wanted on that day and after some initial negotiating, he couldn't help himself, as he successfully eked out a couple more grand for me. He would rather lose a sale than put you in the wrong property. It boils down to decades of experience in the housing market on Martha's Vineyard, coupled with integrity. You will not be steered wrong.
" And after the sale, whether you live on the island or off, his newsletters keep coming if you so wish, not only keeping you abreast of the market, but keeping you entertained as well. Thus, another reason I don't need television!
" At the risk of stating the obvious, I will recommend the only knowledgeable buyer-broker on MV, Peter Fyler's SplitRock Real Estate!"
Paul and Rebecca T., New Orleans, LA and Martha's Vineyard
---
"We recently closed on a wonderful home in Edgartown. Peter Fyler's professionalism, expertise and knowledge about Martha's Vineyard's real estate made for an overall first rate experience.
"From the beginning of our relationship, Peter took the time to understand our requirements and focused his search to meet these requirements. He was always available to answer our questions and spent the time researching information for us.
"Peter is objective, measured and balanced in offering his opinion and insight, which was very much appreciated and welcome given the recent turbulence in the real estate market. Peter was well prepared for our visit, as he greeted us with a comprehensive book detailing the homes he arranged for us to visit. The value of that book was not completely appreciated until we returned home and used it as Bible over the next several months as we continued our search.
"Peter went to great lengths to be sure our every question was answered and every need met. The purchase process was handled professionally from the initial bid right through a flawless closing. Peter's recommendations for an attorney, bank and insurance company were also key to a successful close.
"Our relationship with Peter did not end at closing. He made sure we were well acclimated with the area and continues to inform us of items important to Island living. We recommend the services and experience of Peter Fyler and SplitRock Realty without any reservation.
"Today, we have our dream home in Edgartown as well as a great friend."
Brad, Aurora & Nicholas H., Pound Ridge, NY and Martha's Vineyard
---
"In looking back, I know there were countless times throughout the process that I told you how valuable you were to Dave and I, but I'm not sure I ever conveyed to you that there is absolutely no way we would have ever bought a house on Martha's Vineyard had it not been for you.
"We had wrestled with the idea many times before. Dave and I became discouraged because anything that looked interesting was "gone" before we got to it. And then an acquaintance suggested we meet you. You took the time to build a relationship with us and were well aware of our parameters. You gave us a much needed "heads up" when something you believed met our criteria became available, and then provided us with more photos than we could ever imagine plus a complete and accurate written description of the property.

"We had NO time to waste to come and preview the house. We had to trust you. Let me say again our family are not risk takers. Buying something sight unseen was unheard of. But by now we had come to appreciate your judgment, your knowledge, your thoroughness and your quick wit. We knew it was NOW OR NEVER.

"I think what amazed us most in this process was that you didn't disappear once the deal was made. Your "concierge service" was truly memorable. You were the "go to" guy for EVERYTHING. To this day we still scratch our heads and wonder what our attorney did. We have NEVER encountered someone as professional as you in any real estate transaction we have made in the past.

"We wish you all the best and hope that others are lucky enough to work with you."

Dory, David & Ben R., Montclair, NJ and Martha's Vineyard
---
"I am one of that group close to retirement, but far from tired, who has been searching the coasts of the planet for a place to buy. I looked at St.Lucia, Blue Hill, Caye Caulker, Devon, Kerikeri . and one day found myself at the SplitRock Real Estate site. Within 2 days I had made an offer on a place I had seen only through Peter Fyler's eyes.

"All that endless searching and anxiety has turned into euphoric expectation. Peter with great aplomb and competence has made my future feel like the greatest of adventures. Everything about the sale and follow-up has been handled smoothly and with delightful humor. I highly recommend using the services of Peter Fyler, it just makes it all so wholesome and fun... not to mention astute."

Amy V.G., Los Angeles, CA
---
"I must tell you again how much I look forward to and enjoy viewing your web page and reading your e-Newsletter reports. In all my years of dealing with real estate, I have not experienced such a positive, constructive and valuable approach. Of course, I understand that your commentaries are "the 'soul' opinion of the author". However, I trust your judgment, motivations, experience, and of course your many years of getting familiar with the MV real estate market.

"The wording in your commentaries cuts through the chase and provides real usable information that can benefit your clients. Observations like "there is a fire siren that sounds" or there may be "unfavorable smells", or "heavy traffic" etc., etc., etc., are great pieces of information that allow the buyer to make an informed decision. When I read your comments I always come away believing you are unbiased, objective, fair, and absolutely working on behalf of the buyer.

"In the short time you have been producing your reports I feel like I have gotten to know a lot more about the MV market. I have learned a tremendous amount and have gotten a much better perspective on how property value is assessed / determined in MV. As you once told me --- you believe the best buyer is one who is educated about the MV real estate market. You are certainly doing your part to try to make that happen, but you are also serving as a proxy for the entire industry where traditionally there is a limited track record in "telling the unvarnished truth". I only wish you could have been doing this service in Wellesley when we purchased our home in 2000.

"Please keep up the great service to your clients. I believe your approach is one of truth and transparency to buyers, and it flies in the face of the old axiom of "buyer beware". Being a change agent isn't always popular or embraced by everyone. However if your goal is to help people and act in their best interest, you are most certainly accomplishing this objective. My best regards and thank you for the time you invest in your research, commentaries, and communication to clients. "

Donald V.S., Wellesley, MA
---
"When we initiated our search for our Vineyard home, we thought we could do some homework online, make a few calls and choose our spot without the assistance of a professional on the island. We were completely wrong.

"Luckily, before our frustrations boiled over, we met Peter Fyler. Peter helped us to find the perfect spot, but more importantly to navigate us through the headaches and peculiar intricacies associated with buying on Martha's Vineyard. Most telling, Peter never acted as if we had to buy a house; he made us feel as if he was more interested in us achieving our dream. I can say without any hesitation, that we could not have succeeded in the buying process without Peter. Thanks Peter, and we look forward to having you over as soon as the last brick is laid."

Brendan & Susanne T., Washington, DC
---

"For anyone considering buying property on Martha's Vineyard, I strongly recommend using Peter Fyler as your buyer's agent on the Island. We recently purchased a home there and Peter was our representative.

"Peter was much more than just an agent showing us listings off the computer - he was an invaluable consultant throughout the entire process of searching out, evaluating and purchasing our new home. Peter took the time to get to know us thoroughly and assess our needs and preferences, and then showed us a range of properties to compare and helped us understand the pros and cons of each. He previewed several houses before we arrived for our first and only trip to look at property, which made our time spent on the Island very efficient.

"Once we had identified the house we wanted to buy, Peter provided important counsel and advice through each stage of the process. Our deal was very complex, with a difficult seller and several contingency issues, and Peter's guidance and insight was extremely important from the drafting of the initial offer through the closing months later. He has intimate knowledge of the Island's quirky politics and regulations, and was able to steer us around potentially deal breaking issues on several occasions.

"Moreover, Peter is well-known and respected by other professionals on the Island, and through his relationships we retained a top flight attorney, surveyor, contractor, inspector and lender.

"I had never used a buyer's agent before, but after my very positive experience with Peter and his firm, SplitRock, I cannot imagine buying a home without one, especially from long distance. Thanks to his professionalism, skill and constant diligence, the challenging process of buying a home in a distant market was made much easier."

Phil & Lynn A. , Washington, DC and Martha's Vineyard


---

"Sharon and I wanted to express formally our great appreciation for all your help in our West Tisbury home purchase. Your patience, attention to detail and zealous advocacy of our interests made this a comfortable experience for us, especially considering that it was done mostly from 3000 miles away.

"We are especially appreciative of your willingness to "go the extra mile" to insure our peace of mind in what can be a nerve-wracking experience.

"We feel that not only have we acquired a house that will bring us great pleasure, but that we have made a valued friend. Please feel free to use this letter and us as reference in your work."

Michael & Sharon K., Los Angeles, CA and Martha's Vineyard


---

"I've bought several homes over the course of my life, and Peter Fyler is the first broker who truly listened to me. He didn't waste my time with houses that I wouldn't like or couldn't afford. Peter worked tirelessly for me. We both knew it may take a while to find the right second home for me, but Peter was willing to stick with me as long as it took. Because I was remote, on the mainland, but wanted a Martha's Vineyard home, I needed a trustworthy agent to do the legwork for me. I never felt out of touch.

"Peter's "fault", if he has one, is that he is very honest. If a house wasn't in great shape, he didn't sugar coat it, he told me the honest truth. This saved me time and money - I only visited the Vineyard to see properties that really matched what I was looking for. As a result, I visited properties twice with Peter and the second time his phone call to me had excitement - he claimed to have found the perfect house for me and said I must come see it. Boy did he hit the nail on the head - the house wasn't yet on the market, and I got the first look and scooped it up. Peter found my dream home within my price range (and I don't have millions, not even one). I would highly recommend Peter and SplitRock Real Estate."

John P., Westford, MA and Martha's Vineyard
---

"We shared our search criteria and objectives with Peter and he took it from there. We had a limited amount of time to view properties on the Island so Peter helped us plan and organize our search. We started by narrowing the scope of our search by exchanging information about property listings over the Internet. Then on our first day of our arrival on the Island, Peter met us with a well thought out plan. For example, he provided directions and maps that organized properties geographically so we could drive around quietly by ourselves and not waste any time trying to locate a property. Peter combined his knowledge of the Island property and our criteria to help us be more effective in our search. He also reviewed his role as a Buyer's Agent making it clear that our interests come first.

"Once we narrowed our choices to a manageable amount, Peter took us to view each home. As we toured each home, Peter always provided his opinion with our interests in mind. It was comforting to know that someone was in our corner. We found a home we loved and made an Offer on our last day in the Island. So with some trepidation, we returned to Los Angeles. However, our concerns about conducting such a significant life transaction from coast to coast were soon alleviated --- Peter Fyler was on the job! He served as our "eyes and ears" on the Island throughout the process. For example, after the standard house inspection some corrective work was required. Peter was very much involved and helped to coordinate with contractors. After the work was done, he sent us digital photographs so we could "inspect" the completed work. Peter did a wonderful job! He followed through when he said he would and was always available to address any questions/ issues.

"We could not have done this without the help of a true professional, Peter Fyler. Knowing Peter always put our interests first made the process of purchasing our new home from such a distance so much easier. Yes, he served as our buyer agent and made us feel confident in his abilities to help us meet our goals, but he also made us feel at ease with him and we consider Peter much more than a buyer's agent but a new found Island friend. The personal touch makes such a difference! Our sincere thanks and appreciation to Peter Fyler."

Joan & Marcos C., Martha's Vineyard


---

"Buying a house is not easy, especially on the Vineyard! It began as a very stressful experience. I remember saying that I was not going to use my heart to make any more decisions, and Peter would remind me that the heart is the most important thing to use. I was ready to give up on the purchase, and Peter told me: "Don't worry, if it is a rose it will bloom"! It did bloom and now everyday I stand on its petals and thank God for it. I am very thankful to Peter Fyler for all his support and services. He was not just a real estate agent he was a good friend."

Danubia C., Martha's Vineyard